Zuriberg Toastmasters club meet in the heart of Zurich, less than ten minutes from the main station. We are a diverse group made up of international members, using English at our club-meetings. We learn from each other how to speak effortlessly to any audience.
Our mission | Our history | About Toastmasters
Zuriberg Toastmasters club mission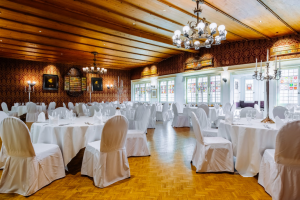 We learn and practice public speaking together in probably the most beautiful spot in Zurich.
Our club is a professional and supportive community. Together, we learn how to improve our communication and leadership skills by practicing public speaking in front of a friendly, multicultural and diverse audience.
Our members learn how to articulate and convey their messages while building their confidence and rhetoric skills.
Zurich's Zuriberg Toastmasters club's history
Based in Zurich, Zuriberg Toastmasters is one of the leading clubs in Switzerland, having consistently achieved Distinguished Club Status! Zuriberg Toastmasters Club was chartered on 6 June 2007. It was founded by professional speaker and coach Lesley Stephenson DTM. In June 2019, Zuriberg Toastmasters Club became a Swiss Association.
Zuriberg Toastmasters Club is part of Toastmasters International (TMI). TMI is a world-leading organisation providing communication and leadership training and a lot of room to practice. The programs teach members how to deliver both prepared and impromptu speeches while also practising leadership skills.
About Toastmasters International
Toastmasters International is a nonprofit educational organization that teaches public speaking and leadership skills through a worldwide network of clubs. Headquartered in Englewood, Colorado, the organization's membership exceeds 280,000 in more than 14,700 clubs in 144 countries. Since 1924, Toastmasters International has helped people from diverse backgrounds become more confident speakers, communicators, and leaders.
A short history of Toastmasters
Toastmasters began as a series of speaking clubs organized by Ralph C. Smedley during his time working for the YMCA (Young Men's Christian Association) in Bloomington, Illinois, United States. As director of education at the YMCA, Smedley saw a need for the men in the community to learn how to improve public speaking, conduct meetings, plan programs and work on committees, and he wanted to help them.
The first unofficial Toastmasters meeting was held on March 24, 1905. Much like Toastmasters meetings today, the participants took turns leading and speaking at each meeting.
In April of 1924, in the YMCA in Santa Ana, California, he was able to introduce the idea of Toastmasters to his colleagues, and organize the Toastmasters club that eventually became Club No. 1 of Toastmasters International. By 1930, nearly 30 Toastmasters clubs had formed including a club in British Columbia, Canada.
Ralph C. Smedley died in 1965, but his heritage lives on in 144 countries.