Visit Zuriberg Toastmasters at of one of our meetings. Visiting a club is the exciting first step to building a better you. You'll have fun and learn about the Toastmaster's way. And, it will provide the perfect opportunity to get a feel for our community and the benefits Toastmasters offer.
How to visit | When do we meet? | Where do we meet? | Questions and Answers
How to visit
We meet almost every Tuesday in person at Blue Monkey, Zürich. Occasionally, our meetings might also happen online. While attendance is for free, we pay for the use of our beautiful venue by buying dinner, and we therefore require our guests to do the same.
If you plan to visit us, please complete the RSVP using our Meetup.
When do we meet?
Where do we meet?
The Zuriberg Toastmasters Club meets usually 3 times per month on Tuesday in the gorgeous Zunftsaal room of the Blue Monkey restaurant.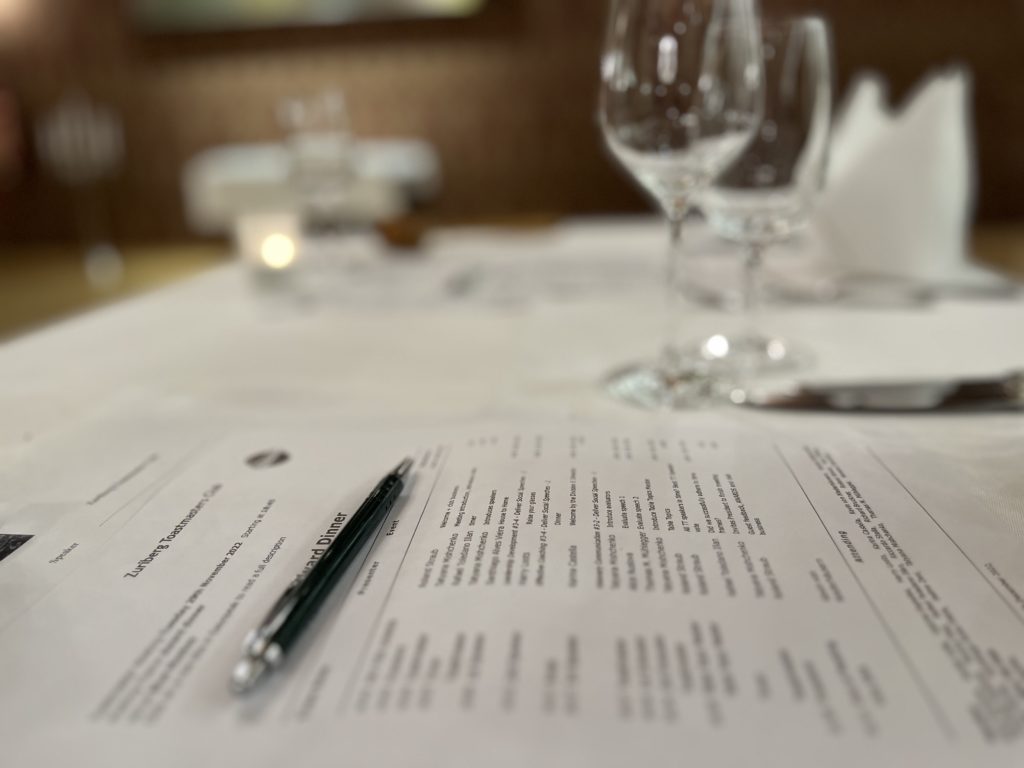 Stüssihofstatt 3
8001 Zürich
+41 44 261 76 18
www.bluemonkey.ch
Questions & Answers
Q: Do I need to speak at a club meeting?
A: No. You are not obliged to speak when visiting a club. You may simply be an observer, if you wish so. But we encourage you at least to introduce yourself and to give us your feedback at the end. And if you wish, you can participate in the Table Topics.
Q: Is there a leader or instructor?
A: There is no instructor in a Toastmasters meeting. The club has elected club officers present and a Toastmaster who facilitates the meeting. By joining the club, you receive the competent communicator manual, which contains ten projects to learn and improve your public speaking skills. If you wish, you can also have an experienced member as mentor for the first three speech projects.
Q: Do I have to pay for the dinner?
A: Yes, dinner is not for free and costs around 25.- CHF. Keep in mind though that you do not only get a delicious dinner, but also one of the most beautiful locations for a toastmaster meeting, the gorgeous guild hall. Drinks are also not included.
Q: How many people will be there?
A: Normally we have about 20-30 members and guests attending our meetings. The RSVP people in Meetup are usually the guests.
Q: Do I need to become a member immediately?
A: No! You like the format but need more time to decide on a membership? No problem: our guests can visit up to three times without committing.
Q: What does a typical meeting look like?
A: Have a look here