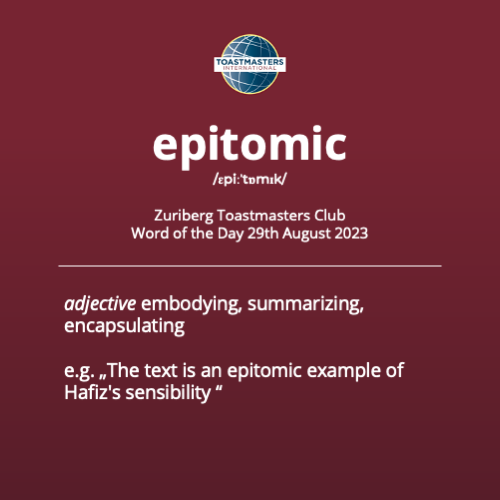 Dear Fellow Zuriberg Toastmasters,
What a delight to see so many of you last Tuesday evening at Blue Monkey! Autumn made its dynamic appearance and an audience of 20 was present to learn about mentoring and to enjoy the amazing atmosphere of our Zuriberg community.
We had a full agenda of two icebreakers and our long longed-for mentoring workshop.
Our new members, Gabriele and Zsolt, shared with us their well-prepared ice breaker speeches. Gabriele described his career transition from architect to software engineer with vivid metaphors and humorous elements. His title 'Navigating new Adventures 2.0' could not have been better suited to his life story.  From a very young age, Zsolt was driven to discover mankind΄s secrets, encrypted in our DNA: it is the code of life and holds the secrets of our past. He took us on a journey through time and geography, even unraveling the secrets that DNA reveals about the past of Native Americans.
The epitomic event of the evening (word of the day) was none other than the mentoring workshop. Mentoring is one of the backbones of our club. It connects us, fosters relationships between members, helps us learn from each other and progress with our public speaking goals. Harry and Roland guided us through the fundamentals of how to best build and foster a relationship between mentor and mentee. Are there specific traits for each role and what are these traits? During the second phase of the workshop, the interactive part, we had the opportunity to sit in pairs and try out both the roles of mentor and mentee. The do΄s and don'ts were then discussed in the open round with Harry and Roland moderating the discussion to extract the essence: Discuss goals with openness, effective listening and taking care to avoid mirroring.
A big applause and thank you to Harry and Roland for creating the content and organized the workshop with such passion and energy.
Autumn is here and we get back into our regular meetings to progress with our goals and speeches. In September, we have 3 regular meetings coming. The next one is on September 12th with the theme "Autumn". There are still some roles open, step up and take them!
Please confirm attendance or absence in Easyspeak, it helps all of us with planning and smooth run of the evening.
Looking forward seeing you on September 12th!
Best Regards
Vanessa Stournari
President Zuriberg TMC