Dear Fellows of Zuriberg Toastmaster Club and Friends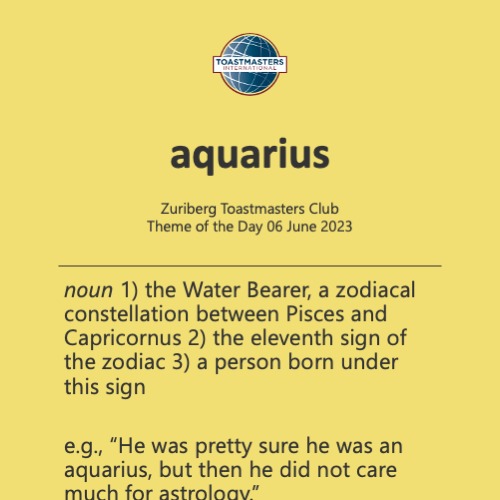 The wonderful news is that Summer finally arrived in Zürich – the not so great news however is, that last night, despite summer tempartures – at Blue Monkey's 'Thai Heaven' – (the big guild hall was for once not available) the heating was working full blast, providing all 24 attending members with a literal 'hot seat'! The Club had restricted the meeting for members because of the smaller location – an action that proved itself as highly appropriate – as much we all regretted the absence of guests. With a densely packed program (5 Speeches, one presentation being a keynote speech of 22 min.) the impeccably prepared evening was marked by sharp attention to detail, engagement, a demonstration of of relaxed efficiency and fun. Denisse Sevastian treated the audience to a well worded speech about the many intricacies when traveling and confronted with foreign cultures. She managed to bring her presentation to life with wonderfully detailed descriptions and a very per sonal touch. Elias Miano held a fictive commencement speech at his MBA alma matter, marked by his willingness to share intimate details of his life and the motives and emotions they encompassed. As Michelle Sabatini – his evaluator – correctly stated though; as strong as Elias' message was, through the missing clear link to the highly personal first part of Elias' speech the elevated requirements of a keynote speech were likely not fully met. Rafael Toledano elaborated in a perfectly structured, interesting and well presented speech abut the shortcomings of humans when attempting for foretell, i.e. prospect their own fortunes – or rather misfortunes! Rafael's title of 'Best Speaker' of the evening was well deserved – among other things because he gave a textbook example of delivering a speech with a certain complexity in a understandable and clear way. Our new member Ana Maria Fluorescu gave her 'Icebreaker' and did indeed 'break the ice', el oquently, charming and… head first, as promised with the title of her speech! Last but certainly not least Kevin von Niederhäusern gave us a great sample of good vocal intonation and variety with his speech about communication styles: 'It's time to wake up, kiddo!
Sascha Merian as Table Topics Master of the evening demonstrated his love for stories by starting a mysterious narration with continuations by several members, each chosen by her/his predecessor. An excellent variation of impromptu speech – and a telling demonstration of 'collective creativity'!
Under housekeeping yours truly reminded everybody that coming Tuesday, June 13th there will be no club-meeting as this is the day your Committee is at work. We'll reconvene on June 20th with the meeting-theme 'Rhythm'! At the end of next meeting we'll also hold a short e.o. General Assembly (GA) to ratify the two amendments of the Association's statutes, explained during the GA on May 9th 2023 and the appointment of Johanna Wolska as Secretary and Kevin von Niederhäusern as SAA (separate invitation to follow).
With best wishes for enjoyable and productive weeks ahead
Please click here for details of our next club meeting
Roland Straub