Rhythm, in its primal sense, is all about survival. At Zuriberg's 20th June meeting, we have evolved to a very different sense of rhythm: personal growth. Roland Straub, our charismatic President, kicked off the meeting with a warm welcome, before handing over the reigns to the ever-proficient Richard Bruckner, our Toastmaster of the Evening.
Pietro had a mouth-watering speech about his native Italy. Ruxandra gave us tips on breathing. Aaron reminded us why timers, grammarians and ah-counters are part of the backbone of Toastmasters. Harry shared his experience of being mentored by his fellow Toastmaster Declan. Svetlana made a complicated topic (bitcoin) simple and understandable. Denisse, Elias, Etienne, Tatyana, Roland, did a magnificent job challenging the speakers to improve in their future speeches!
Topics master, Joanna Wolska introduced a different kind of rhythm, with music as the central theme to the various questions speakers had to respond to.
General Evaluator, Ana Maria Florescu, provided general feedback on what we did well, and where we can improve. Her supporting team, Vadim, who presented us with 'preposterous' as the word of the day; Thomas who counted our errs and ahhs; and Roberta who kept time, all did a great job.
Roland chaired a short Extraordinary General Meeting, to allow us to clarify a number of items in our by-laws and ratify the appointment of two of our committee members. All proposals were approved unopposed.
Hall of Fame, Ankara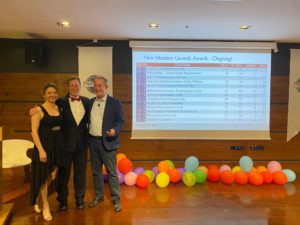 Harry provided feedback on attending the annual District Awards dinner in Ankara. Emphasising how proud he was to be able to represent Zuriberg.
Undoubtedly, Zuriberg, one of Zurich's most successful clubs, is also one of the most successful clubs in District 109!
Pub Quiz and Grand Raffle Prize Draw
Next up was Richard and Harry, who will be co-hosts of next week's fun meeting! Briefly explaining what to expect during the Pub-quiz evening, and Grand Prize Draw.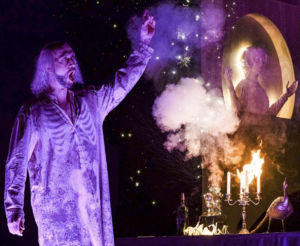 Teams of up to six will compete to be the Pub Quiz Winners of 2023! Between questions, a raffle ticket will be drawn, with the winning ticket having an opportunity to vie for the Best Table Topic Award, as well as receive a spot prize! And then it will be time for the draw of the Grand Raffle Prize. An astonishing evening at the opera for two people – worth a staggering 500 CHF. (Club members beware: On-stage Richard and Harry were quietly wondering how, as organisers, they may be able to manipulate the results and spend the evening at the opera?)
To buy your tickets, visit our Grand Prize Draw page. (Note: You do not have to be present to be eligible to win the grand prize.)
Sign up here for the 27 June meeting.
Best Speaker, Evaluator, Table Topic Speaker awards
Harry, Tatyana, and Ana received the Best Speaker, Evaluator, and Table Topic speaker ribbons.