Fellow Toastmasters Zuriberg and friends,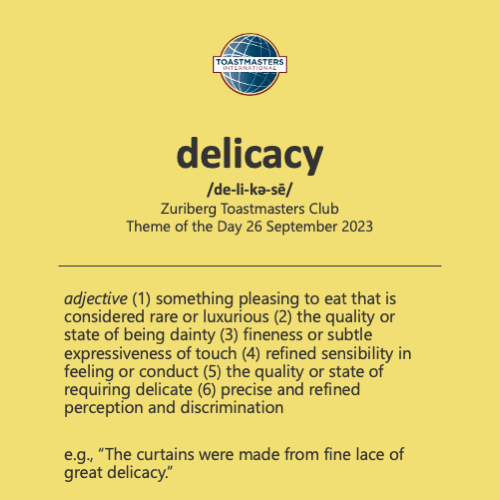 Last Tuesday, we gathered for yet another exquisite evening at our beloved Zuriberg Toastmasters club. While the space was limited, our spirits were soaring high, and the word of the day was "exquisite."
The Evening's Flow
Our Toastmaster of the evening, Elias, guided us through an intriguing exploration of what delicacy means to each of us. Delicacy, as we discovered, transcends mere food; it encompasses the subtle beauty in nature, cherished memories, and, in our Toastmaster community, the art of delivering a near-perfect speech. Elias's eloquent introductions set the tone for an evening filled with charm and grace.
Elias closed the evening with a personal inspirational quote: "Delicacy is a fine speech. That speech keeping you on your toes. That speech that is composed not by words but by exquisite music. That speech that we will remember forever".
Speaker Highlights
"Conquering Procrastination": Ruxandra's speech emphasized that the pursuit of perfection can hinder our growth. She shared techniques to overcome procrastination and encouraged fearless public speaking. Her message was clear: achievement triumphs over perfection. Christina's engagement to the speech resulted to an inspiring passionate evaluation resonated with the audience.
"My Bed, Your Bed, or Our Bed?": Ana-Maria artfully coupled conflict management strategies with storytelling in her speech, depicting the comical situation of sharing a guest room with two unwilling cats. Her creative approach earned her the Best Speaker award. Ettienne, provided a well-constructed evaluation to help Anna to bring her speech to the next level of story-telling. The holistic analysis approach  with the engaging delivery, granted him the best evaluation award.
"The Language of the Body": Svetlana explored the impact of body language, highlighting its role in conveying attitude, mood, and vulnerability. Anna'sevaluation provided practical insights into controlling nervousness through breathing techniques.
Kevin brought a delightful array of table topics, from memorable childhood moments to mastering new skills. Pietro's tale of the perfect gelato recipe earned him the Table Topics award.
The evening concluded with a thoughtful evaluation by General Evaluator Thomas and his team. Fereshte, Vadim, and Gabriele provided their insightful reports on time, filler words and use of language, while Thomas emphasized the power of a passionate engaging evaluation in both educating the speaker and captivating the audience.
Conclusion
Toastmasters Zuriberg proved that delicacy extends beyond the culinary world. It resides in the finesse of speeches, the art of storytelling, and the skillful evaluation of our fellow members. As we continue our Toastmasters journey, we are reminded that it is not just about perfection but about growth, engagement, and the joy of sharing our voices.
What is on the horizon? 
The next regular meeting is on October 10th under the theme, "appraisal". On October 17th we host the panel discussion, with two panels proving insights on two topics: "Impact of Technology on Daily Lives" & "Ethical Leadership".
Kind Regards
Vanessa Stournari
President TMC Zuriberg