Last night, in the cozy ambiance of Thai Heaven restaurant, we hold another invigorating Zuriberg Toastmasters meeting.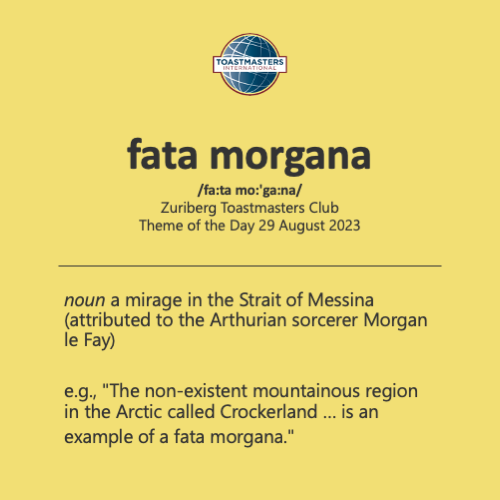 Our Toastmaster for the evening, Monica, set the stage with a well-researched introduction on the theme of the day: the illusory phenomenon of Fata Morgana. This question got us thinking, what is our own Fata Morgana?
Learning Through Speeches
Our evening was filled with three captivating prepared speeches, engaging table topics, and insightful evaluations, all contributing to our ongoing journey in mastering the art of public speaking.
Joran kicked things off with his icebreaker titled "Time for Some Action." He shared his journey in overcoming his fear of public speaking, emphasizing the value of preparation, reading on public speaking, and inspiration from fellow Toastmasters. Svetlana, his evaluator, praised his colorful language, making his icebreaker truly engaging.
Anna earned the Best Speaker award with her speech "In the Mind of a Tour Guide." She skillfully wove her experiences as a Zurich tour guide into a compelling storytelling technique. Roland, her evaluator, praised her excellent technique, giving the characterization of the perfect packaging. Roland not only praised Anna, but he also coupled masterfully the storytelling technique of her speech into his own evaluation speech. And that succesfully granted him the best evaluator award.
Toastmasters isn't just about public speaking; it's a community where we grow, connect, and find inspiration for life projects. Eric, a long-standing Zuriberg member celebrating a significant milestone of 10 years with Zuriberg, delivered an engaging speech titled "Reaching Out for Research." He shared how his Toastmasters experience had helped him master the art of interviewing, emphasizing the values of intent, trust, agreement, and comfort.
Michelle provided a tailor-made evaluation for Eric, highlighting the need for more information about the project while acknowledging his passionate delivery. Speeches can be informative, humorous, or personal, but it was Eric's personal, participative style which resonated with the audience.
Meeting Reflection
Our General Evaluator, Tatyana, and her team diligently monitored the evening, commending the meeting organization by our Sergeant at Arms, Samira. They also highlighted the effective evaluation techniques used by our evaluators. Our grammarian Seline and ah counter Fereshte contributed with excellent language usage and real-case filler word avoidance.
The word of the day, "spectre" (wisely chosen by Seline), was aptly matched to the theme, adding a touch of mystique to our evening. Table Topics, curated by Pietro, further embraced the Fata Morgana theme. Elias won the Table Topics session with a captivating tale of overcoming drinking problems by making a deal with the devil, delivered with vivid facial expressions. Tall-tale at its best, let the imagination go wild!
What's on the Horizon?
While delivering a speech may seem like a Fata Morgana for many of us, there's no better way to turn fear into achievement than by taking the stage. Our next regular meeting is scheduled for September 26th. Please step up and assign roles and speeches through Easyspeak. Additionally, note that our next meeting will be held in the first-floor restaurant, so kindly confirm your attendance or absence in Easyspeak ahead of time.
Don't forget to sign up for the Panel Discussion on October 17th! With two moderating panel discussions, each featuring four panelists and an open floor for Q&A, it promises to be an exciting event.
Best Regards
Vanessa Stournari
President Zuriberg TMC