Fellow Toastmasters,
This years club contest, the first non-virtual one for many members, was an amazing event enjoyed by a large crowd: more than 35 people attended the evening, including Division Director Karina Castella. 14 competitors had stepped  forward to challenge themselves in either the international speech, evaluation, and table topic contest.  Contest chair Harry Loots lost no time pointing out his amazement on how many  new members signed up.
Chief judge Vanessa, who next to Harry surely had the most effort in preparing this smooth-running event, explained the rules to everybody. To make sure a contest is according to toastmasters Standards is no easy feat by any means, filling all roles and briefing everybody to make sure compliance is kept.
The international speech contest featured four very experienced speakers. In Michelles speech about the importance of not being stuck in the past also gave advice on when it's appropriate to wear wetsuits, this way not just giving good advice, but also insights about one of her big passions, open water swimming.
Roland pondered in his speech "The power of choice" on whether we really have choices when things get tough and came to the convincing solution that yes, we do.
Santhiago told us on how to "Think for yourself" on both airport queues and financial advices, making sure we're now less likely to follow the crowd without second though.
As final speaker in the international speech, Monica held a speech with the boisterous title "The communication war in our sergeant role", detailing her views on communication and information overloads in the 21st century and their impact on communities and us.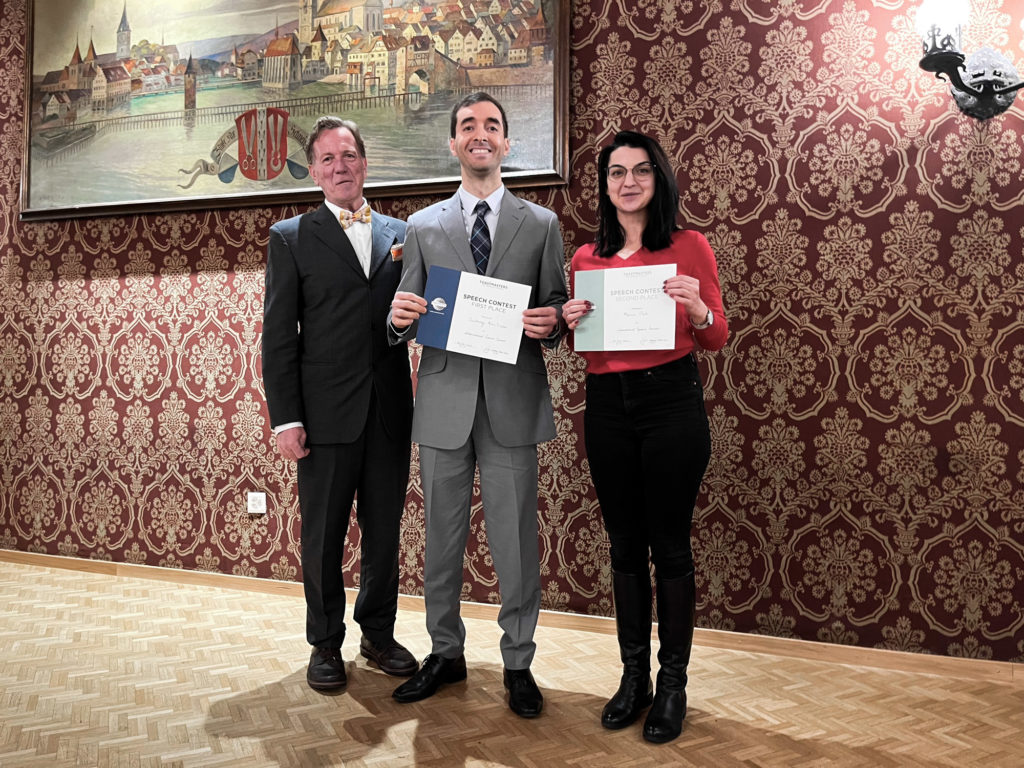 All being excellent speeches, it was a difficult choice for the judges.
Next up was the evaluation contest. Benjamin from TopNotch Toastmasters gave an insightful speech on Chat-GPT and related AI products and possible dangers and countermeasures, which was evaluated by Janna, Roxy, Alice, Sara and Samira in that order after a challenging 5 minute preparation time. While nervousness showed here and there, we all learned a lot. Congratulations to all, for 4 out of 5 evaluators it was their first contest.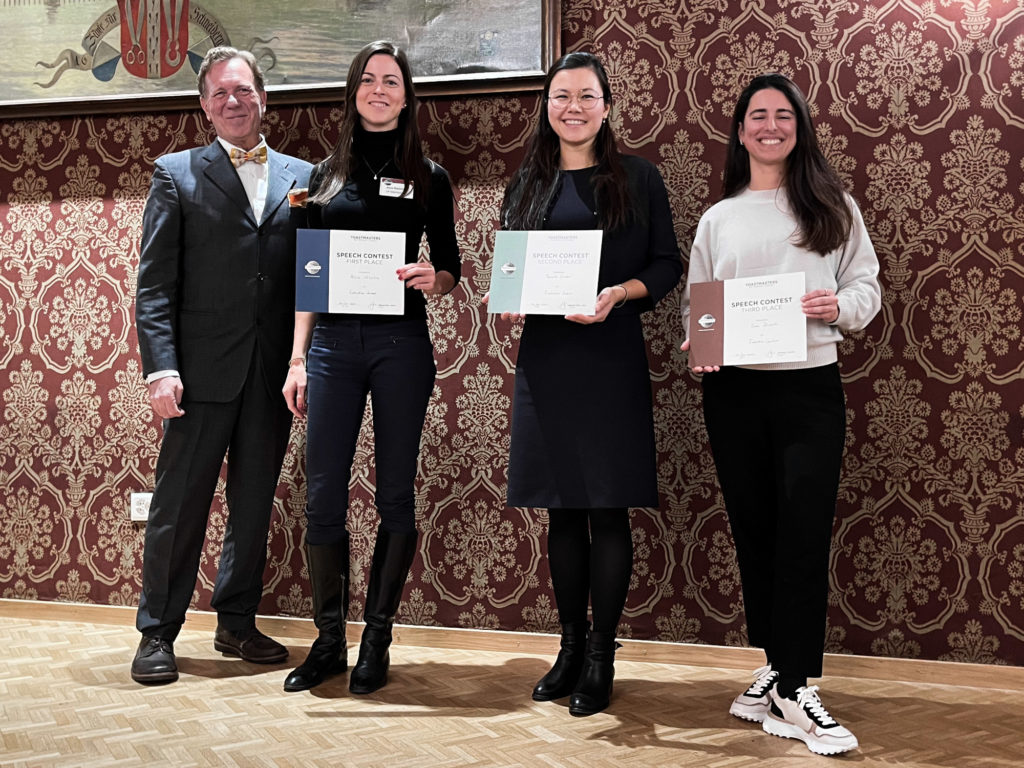 Last up was the table topic contest. Table topics are 1-2 minute impromptu speeches, and in a contest, all competitors have the same topic. This time, it was "A night at the movies". Our Contestants Kevin's, Thomas, Gabriel, Riccardo and Hugo enlightened us with a variety of interpretations, from their adventures in a moist 4DX cinema to appreciation of new experiences and cherishing the people that make you experience them. In a fitting finale, Hugo quite literally ended the Table Topic contest with a literal bang.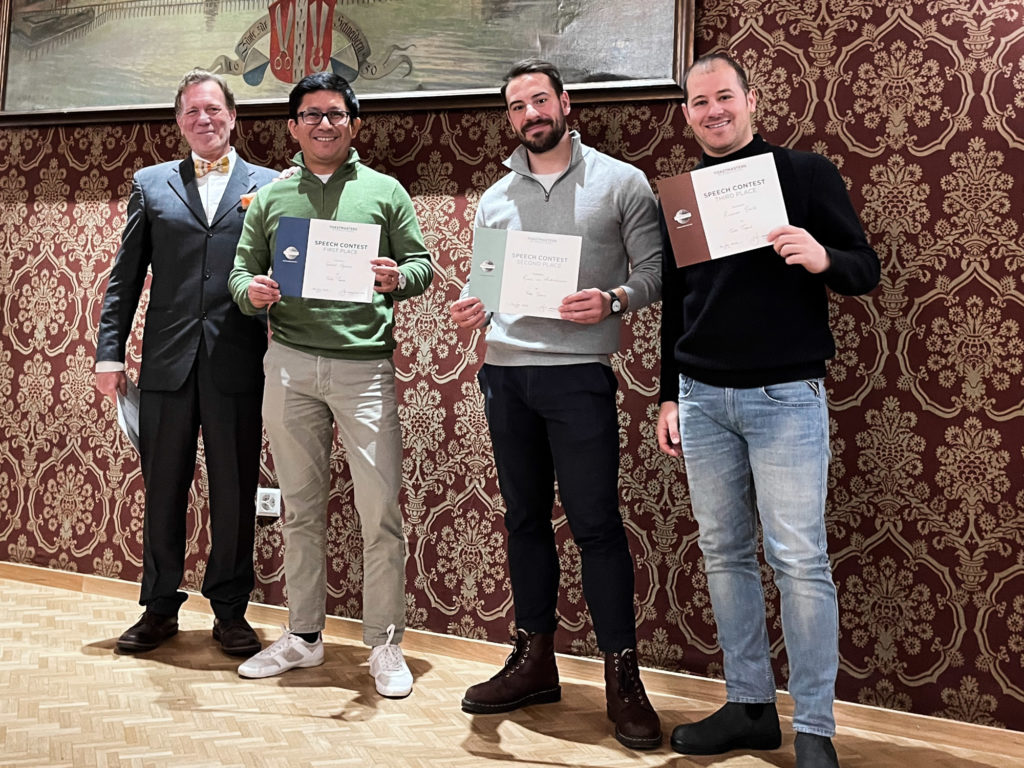 Thanks to all the Contributors & Organizers the evening went smoothly and enjoyably for all involved.
We want to congratulate all contestants and especially the top two places in each category of the Club Contest, who will represent Zuriberg Toastmasters at the Area Contest on the March 30th. Fingers Crossed!
Looking forward to seeing all of you again on our next regular meeting on January 31th, themed "Universe".
All the best
Richard Bruckner