Dear Zuriberg Toastmasters and Friends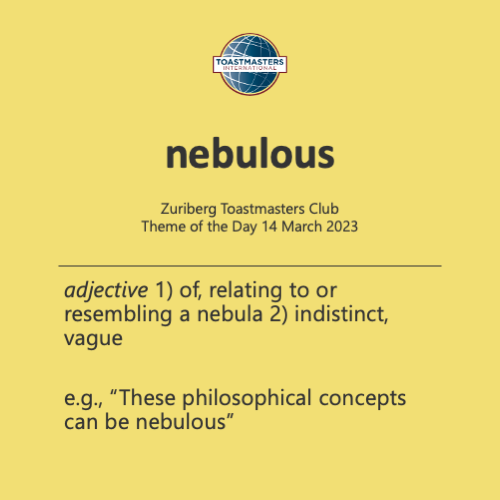 After a somewhat prolonged hiatus of yours truly from writing and reporting about the Zuriberg Toastmasters activities I'm glad to be back. The regular meeting held past Tuesday, March 14th stood under the meeting theme: 'NEBULOUS'! Derived from the latin word nebula, the word nebulous used as an adjective has a primary meaning of cloudy, misty or foggy and a figurative meaning of hazy, vague or formless! But let me be clear – according to expectations and form, the evening was anything but nebulous (in either sense)! Our dearest Club Secretary, Joanna Wolska performed for the first time the role of Toastmaster of the evening (TME) and delivered a charming and admirable performance! She was supported by the General Evaluator Samira Studer and her team (Andrea Egger as Grammarian, Yesenia Cardozo as Ah- and Vote Counter and Pietro Castoldi as Timer). It was a true pleasure to see relatively new members taking on roles (some of them for the first time) and performing wit h enthusiasm and clearly expressed joy – well done!
The heart of the evening were four prepared speeches by Roxy Yilmaz, Elias Miano, Denisse Sevastian and Gabriel Espadas. Roxy eloquently elaborated on the importance of setting boundaries and Elias presented a convincing essay on the difficult concept of adaptability with respect to our changing environment. Doing so he was confronted with the additional requirement to manage a difficult audience, interrupting him in his presentation (the difficult audience was role-played with excellence by several club members who had prepared their interruptions beforehand). Denisse found convincing arguments why we are all richer than we might think and Gabriel gave a dramatic recount from his life where he experienced first hand that the fall is indeed greater from the top. All evaluations were sincere, on topic and helpful. To round up the evening, Alice did take over as Table Topic Master from Kevin, who got stuck in Berlin because of air traffic difficulties.
As the Club-Year soon enters the last third I closed the evening with some housekeeping and invited members who are interested in joining the Committee for the new Club-Year, starting on July 1st 2023, to announce their interest with an email addressed to me as President of the Club. Elections for the Club Committee will be held on May 9th!
Please join us next Tuesday, March 21st for a special event: Debate Evening! Two teams delivering a highly structured verbal battle over the following Proposal: "This house believes that freedom of speech has its limits"! Enjoy and learn the high art of debating – a must for all aspiring public speakers.
Best regards
Please click here for details of our next club meeting
Roland Straub