Dear Zuriberg Toastmasters,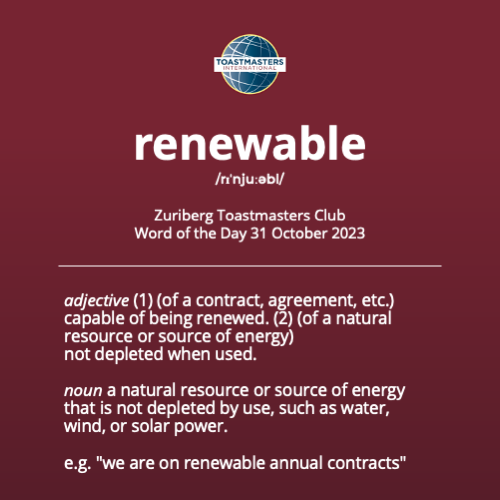 What an energetic Halloween we experienced last Tuesday!
Our Tuesday΄s Toastmasters evening was electrifying. Anna, our Toastmaster of the evening, infused the night with a Halloween theme using her story telling technique to introduce each speaker with their own personal stories, a technique to enhance moderation skills. A good introduction should focus on the speaker, build their credibility, and generate excitement about the topic.
Notable Speech Highlights
Christina delivered her speech "Just Say Yes," inspiring us to battle perfectionism and seize opportunities. Her journey of teaching yoga in Zurich while honing her public speaking skills and learning German at the same time, demonstrated the power of saying yes to unconventional paths. Ana Maria provided an educational evaluation, emphasizing the best body language elements in Christina's speech.
Yani's well-crafted icebreaker drew a beautiful parallel between virtues of water and her life. Humor sprinkled throughout the speech and a clear takeaway message earned her the Best Speaker award. Gabriel's evaluation effectively analyzed the techniques used by referring to specific speech parts, demonstrating active listening skills at its best. Education, and creativity are therefore, key ingredients for a winning evaluation speech.
Fereshte's speech on resilience showcased a strong structural framework, with four key aspects explained and supported by her personal stories. Pietro's evaluation emphasized the effectiveness of this structure, while advising that simplicity is often more powerful than complexity; "less is more".
Samvidha educating the audience on Indian dance while enhancing her own expressiveness. Roland's winning evaluation emphasized that a speech can be informative, educational, persuasive, entertaining, or a combination of all these elements.
Svetlana captivated the audience with her Halloween story, masterfully building a stimulating plot, using descriptive vivid language. Elias recognized the winning elements in her speech and challenged her to take it to the next level by incorporating body language to spook us.
During the Table Topics session led by Ruxandra, participants displayed impressive improvisation skills, with topics fitting the both Halloween and Energy theme. Thomas took home the Best Table Topics award with an energizing Halloween story.
The evening concluded with Habiba and her team delivering engaging reports. They reminded us that time is not renewable and urged us to be mindful of it. Anna skillfully managed the meeting's timing, ensuring that we finished on time without feeling rushed.
What is next?
As we look ahead, what can we expect in the future? Two regular meetings and the Award Dinner are on the table for November! Come along, take roles and hone your public speaking skills!
Yours in Toastmasters excellence,
Vanessa Stournari
President Zuriberg TMC
Please click here for details of our next club meeting