Dear Zuriberg Toastmasters,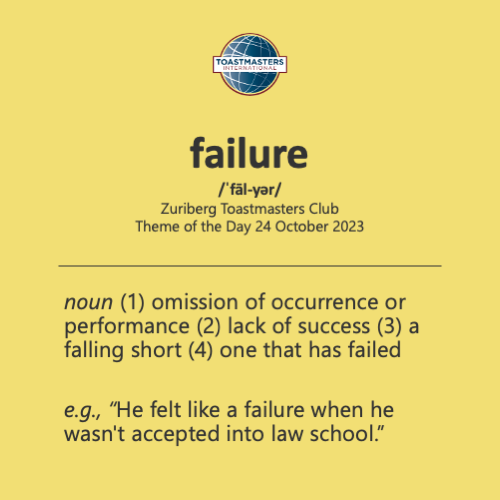 Last Tuesday, we delved into the art of embracing failure as an integral part of our learning journey. Life's rich tapestry is woven with the threads of our attempts and, sometimes, the inevitable outcomes we term as "failures."
Our Toastmaster of the evening, Tatyana, effortlessly steered us through the night, which was definitely a success. During the insightful introductions, we gained valuable insights into how our members perceive and deal with failure. Vadim wisely chose "elope" as the word of the day, as we all have an interim urge to elope failure.
Roland skillfully conducted the table topics session, allowing us to share our personal experiences with failure, and Alice emerged as the Table Topic Winner with her entertaining tall-tale speech on mental exercise.
Speech Highlights
Yesenia, in her speech on diversity and inclusion, shared a simple yet powerful tip: making people feel included by remembering their names. She also encouraged us to broaden our horizons by diversifying our social circles, starting with our gatherings at Toastmasters. After all, we are adept at engaging with diverse audiences.
Nicola's speech on the value of speaking up was a true gem. She engaged the audience with rhetorical questions and backed her points with compelling facts and data. Her seamless transition from a general example of a well-known airline to her personal experience showcased her skill. Nicola, who celebrated 15 years with Zuriberg, continues to be a valued member of our club, delighting us with her elevated speeches.
Joran's speech on the power of asking "stupid" questions was captivating, earning him the winning prize. His relatable topic and well-structured sub-chapters, each based on a question type, kept the audience fully engaged.
The Art of Evaluations
Selin was awarded the first prize for her evaluation of Joran's speech. Her structured evaluation highlighted what Joran did well and where he could improve, concluding with a well-rounded summary. An evaluator wears many hats, and paying tribute to the speaker, acknowledging their effort and courage to share their speech, is a fundamental element. Sabine provided an excellent example by making the speaker shine and attributing high-quality traits. Gabriele kept the spirit high with an empowering and motivating evaluation of Yesenia, reinforcing the strengths to enhance.
Our General Evaluator, Christina, and her team provided comprehensive feedback on our meeting's strengths and areas for improvement. Time management was underscored once more as a cornerstone of a successful night, while evaluations referencing the pathways projects and goals achieved, where identified as room for improvement.
What's on the Horizon?
We have a series of exciting meetings lined up, with the highlight being the Award Dinner on November 28th. Our next meeting, themed "Energy," is just around the corner, next Tuesday, with Anna as our energetic Toastmaster.
Don't miss the chance to take on roles, refine your public speaking skills, and be an active participant in our vibrant community. As the saying goes, if you don't use it, you lose it. Please confirm your attendance or absence in Easyspeak.
Yours in Toastmasters excellence,
Vanessa Stournari
President Zuriberg TMC
Please click here for details of our next club meeting