Dear Zuribergers!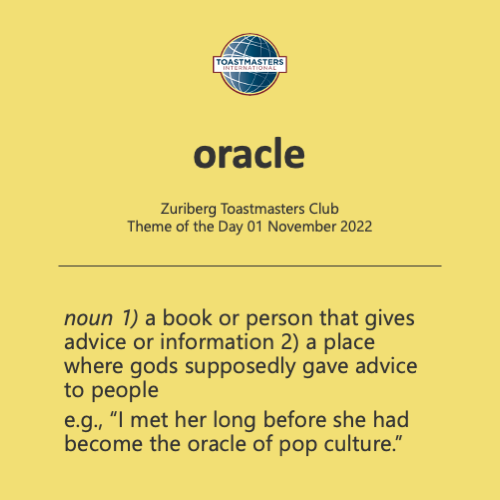 Last tuesday, the oracles (theme of the day) were challenged with difficult yet relevant questions like: "Should I rather marry the sexy beggar or the rich bore?" or "Which hair colour should I wear on my next job-interview – green or purple?"
Not all advice-seekers were satisfied with the answer they received. One even went haywire (word of the day) when he was told to rather look for a shrink then for a new job.
As it turned out, most speakers and evaluators didn't trust the fortune-tellers. When having to make a decision, they rather relied on their sisters and mothers, their gut-feeling, a suitable coach or simply good luck.
Our next meeting will take place in TWO weeks that is November 15th. So far, all roles are taken with the exception of the joker (hot seat).
Have a wonderful week and see you soon
All the best
Nicola
Please click here for details of our next club meeting
Nicola von Lutterotti