Dear All
"Our perception is always limited at best and skewed at worst – thus we should always part with our truths with a caveat"! Sounds like a message concerning some life 'insight' …? Well, it is (or at least it is meant to be) and was one of the 5 messages I wrote down as Alberto had asked all participants of yesterday's workshop to do – the literal 'starter' for the 'writing part' of his workshop: 'How to write an effective speech'.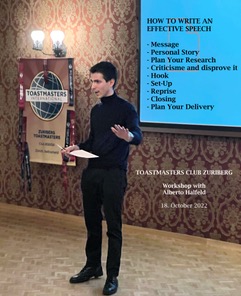 Alberto Halfeld from Toastmasters St. Gallen came to our Guild Hall well prepared and with excellent credentials: He is – beside pursuing advanced studies in corporate finance at HSG – a film buff (currently pursuing a side kick as a screenwriter for a U.S. based production company), a Toastmaster Mentor, Past President of Toastmasters St. Gallen and Winner of the Evaluation Contest District 109 E4! 
In summary – an evening to remember and serving to everybody present as a reminder why we have joined Toastmasters; communication is the most important channel to practice social competence and speech writing is the indispensable scaffolding for the delivery of a valuable message!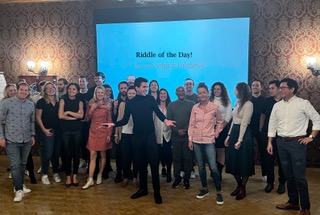 Dear fellow Toastmasters – when you read this summary and were not present yesterday I'm sure you'll have second thoughts about your absence… but a lost opportunity is not the end of the road!
Next meeting
Come and join us next week (usual place, usual time) for four regular speeches with evaluations with our host of the evening Santhiago Alves Vieira and our one and only Table Topic Master Tatyana Mishchenko!
With best wishes for a productive and successful week
Please click here for details of our next club meeting
Roland Straub
All workshop material can be found in Workshops & Material